Ambulatory
Infusion Pumps
You Can Depend On
Safe, reliable ambulatory infusion equipment with a history of excellence.
Customer service you can count on whenever, wherever.
We are the proud manufacturers of the WalkMed 350VL ambulatory infusion pump. For over three decades, WalkMed has established a reputation for reliability in the manufacturing and servicing of ambulatory infusion equipment.
We are dedicated to providing dependable, cost-effective solutions to meet all your ambulatory infusion needs. From our WalkMed 350VL infusion pump to reservoir bags, administration sets, and even practical carrying pouches, our products are designed to be easy to use. Learn more about the products we offer below.
The WalkMed 350VL Ambulatory Infusion Pump
Everything You Need In An Ambulatory Infusion Pump.
Nothing You Don't.
The WalkMed 350VL infusion pump stands out as one of the most durable, portable, and easy-to-use ambulatory pumps available today.
The WalkMed 350VL pump is programmable for therapies between 0.1 to 30mL per hour with a delivery accuracy of ±5%.
The WalkMed 350VL infusion pump can run for days on a single nine-volt battery. As a result, the patient will typically not need to interact with the pump during the course of their therapy. For example, it will easily take a patient through an entire 5-FU infusion cycle at the typical run rate of 2-3 mL/hr. 
WalkMed 350VL has an interface that is simple and easy to understand, making this pump exceptionally easy to program. There are no complex sub-menus or complicated settings. To simplify your preparation process even more, combine your pump with our user-friendly and easy to attach reservoir bags and administration sets.
Learn What Matters When Choosing
An Ambulatory Infusion Pump
Not All Pumps Are Created Equal
Need a reliable infusion pump? Here's what to look for to make sure you're getting the best product that fits your needs.
Consider whether the pump will stand the test of time. Pumps that are more robust reduce the cost of ownership since you'll spend less money on repairs.
The design of the pump you're considering should fit its intended use. Ambulatory pumps should be relatively small, light, and portable so people can easily carry them and conduct their daily activities while undergoing infusions.
For ambulatory pumps, long battery life is essential. A depleted battery mid-infusion forces a patient to figure out how to change the battery themselves or requires you to send medical staff to do it for them. Look for pumps with a longer battery life that will allow treatment to continue uninterrupted.
Learn How To Choose The Right Pump
If you're searching for more information on how to select the right ambulatory pump for your needs, our "Ambulatory Pumps 101" guide will give you all the answers.
Why WalkMed Is A Smart Choice
What Our Clients Are Saying
Real Opinions From Real People
"We deal with a myriad of Infusion companies. Some are really good at doing what they say they will do. Some, not so much. One of the best is WalkMed Infusion."
Designed to Simplify Your Preparation Process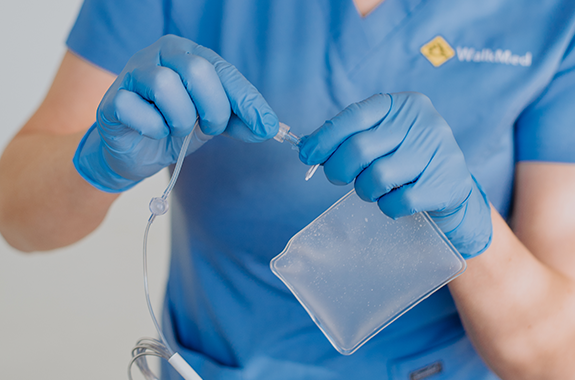 Versatility and Easy Connection
WalkMed's reservoir bags are easy to fill and quick to attach, cutting down on preparation time. Fitted with an industry-standard Luer connection, they can easily connect with any standard syringe, so filling them is as quick and easy as it can be.
Already have a WalkMed pump? Our user resources for clinicians and patients can help guide you on how to properly handle and care for WalkMed 350VL infusion pumps. From quick reference cards to the 350VL operator's manual, to detailed training videos, you can find answers to most of your questions by clicking on the link below.
Ready to get started, need immediate support, or just have a question?

Our team of experts is ready to help.